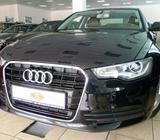 A6, 2.0T, WITH WARRANTY AND SERVICE CONTRACT!!
Dubai , Emirate
Make :

Audi

Model :

A6

Mileage :

67000 KM

Year :

2013

BLACK EXTERIOR

BROWN LEATHER INTERIOR

SUNROOF

ELECTRIC MEMORY SEATS

REAR VIEW CAMERA

XENON + LED

18" WHEELS

KEY LESS ENTRY AND START

WITH WARRANTY!!

SERVICE
Related keywords
Safety tips for Buyers
➣

Make the payment only after you receive the item.

➣

Always meet the seller at a safe location.

➣

Do not pay until you have verified the item.
Read more
close
Set Filters to get the Best Result
Refine Search
Refine Category
Looking for a Job?
Attach your CV and get the best Job. Let employers find you easily!
Post your Resume